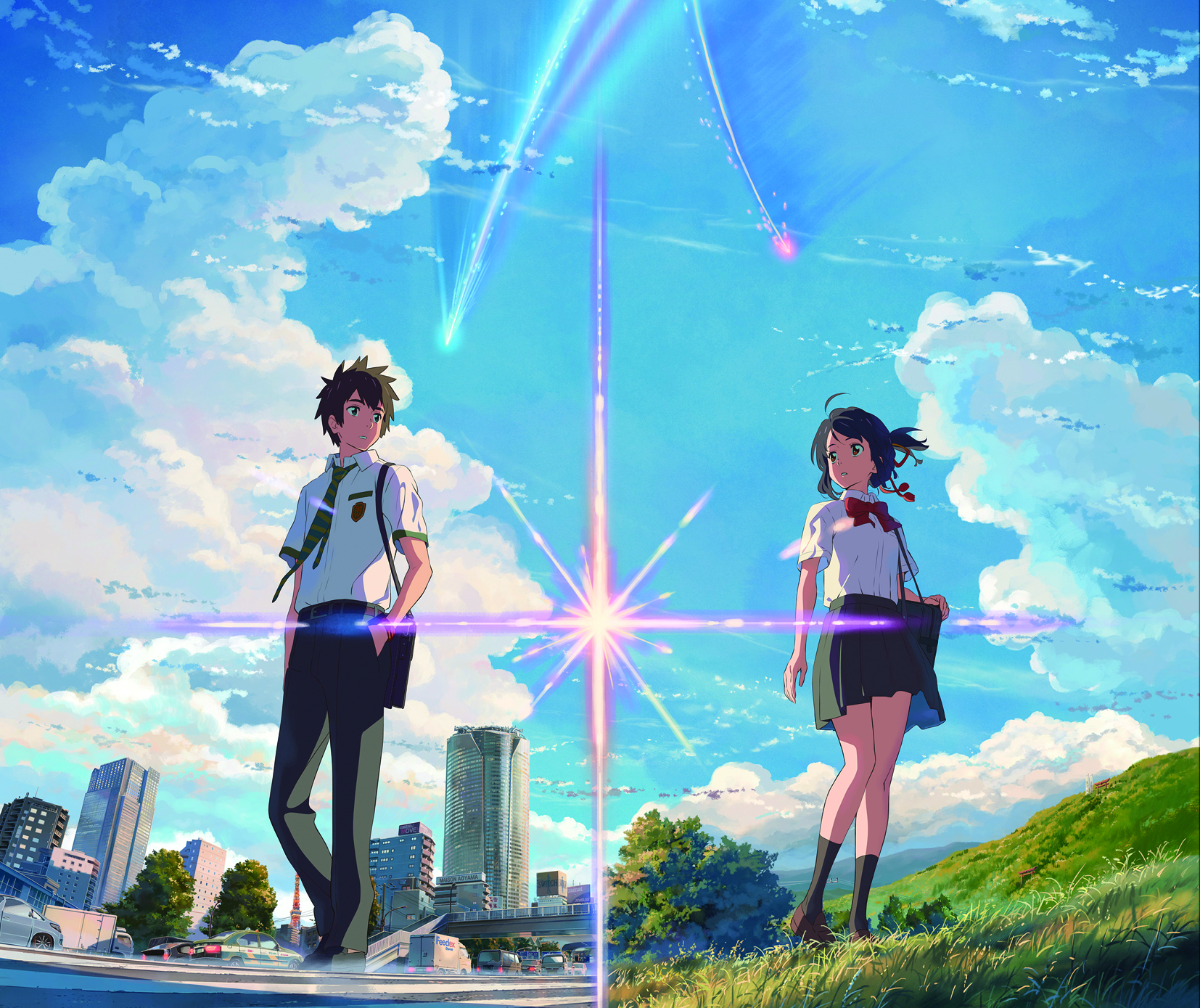 20th Animation Division Grand Prize
your name.
Animated feature film
Outline
This animated feature is by an artist who has produced numerous ambitious works, among them 5 Centimeters per Second (2007) and The Garden of Words (2013). MIYAMIZU Mitsuha, a high-school girl in a small town deep in the mountains, one day dreams that she is a high-school boy in Tokyo. Meanwhile, a Tokyo high-school boy named TACHIBANA Taki dreams that he has become a high-school girl in a mountain town. Through these strange recurring dreams and fragmented experiences of memory and time, Mitsuha and Taki come to realize that they are switching places in their dreams. Gradually coming to terms with this confusing reality, they work their way through their situation, sometimes bickering, through messages they leave for each other. Unfolding against the backdrop of a once-in-a-millennium visitation by a comet, this is a tale of two teenagers seeking love and miracles as they get to know one another. A drama of distance born of both gaps and links between two people from different worlds plays out on a grand scale with stunningly beautiful graphics. The filmmaker's precisely delineated locations and landscapes are augmented by music imbued with a distinct worldview, giving this fantasy a powerfully realistic touch.
Reason for Award
Animation can skip with ease over the unidirectional flow of time or the distances of three-dimensional space. But it is no easy thing to make such leaps of time and space a truly thrilling experience, and your name. does a splendid job of this. Showing us miracles like traveling into the past and leaping in an instant from the top of a mountain to the bottom, the film knows how to stir us. One might say that it accomplishes this through the archetypes of animated movement. Or take the experience of finding oneself in the body of someone of the opposite sex. In real life this would be inconceivably uncomfortable, but the film generously makes this a happy experience. Indeed, it anticipates a society in which the heart finds nothing discomfiting about adopting a different outward appearance—and may actually discover a new kind of happiness by actively doing so. Moreover, the film's account of a meeting of hearts achieved through repeated interactions via various media is emblematic of the hopes and desires of people today. It is an impressive achievement for an animated work to give voice to the contemporary human heart as this one does. (YOKOTA Masao)