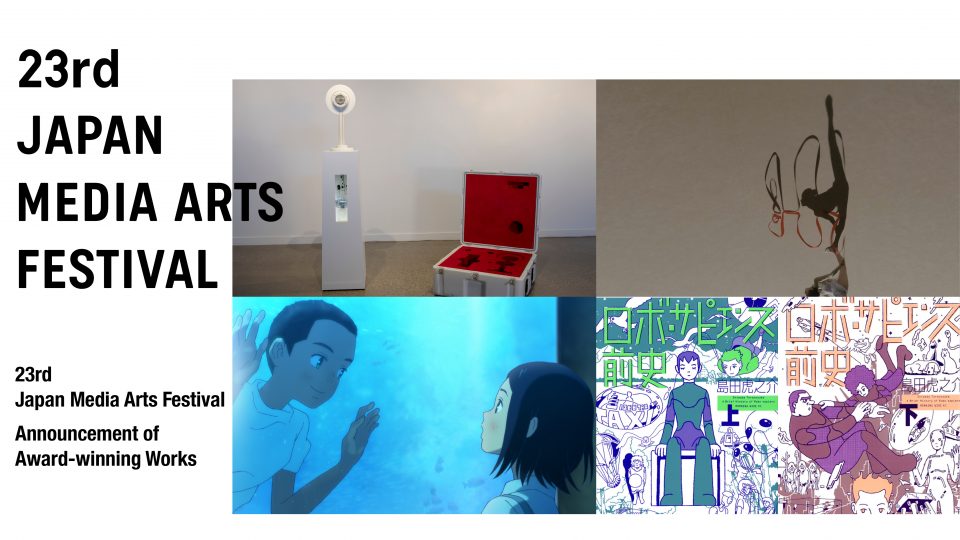 23rd Japan Media Arts Festival's Award-winning Works and Special Achievement Awards have been chosen.
The Japan Media Arts Festival is a comprehensive festival of the "Media Arts" (Media Geijutsu in Japanese) that recognizes outstanding works in four divisions—Art, Entertainment, Animation, and Manga—and also offers opportunities to appreciate the award-winning works. After a rigid screening process, works in each division were selected for Grand Prizes, Excellence Awards, New Face Awards, Social Impact Awards, and U-18 Awards from among 3,566 entries from 107 countries and regions around the world. Works were chosen for Festival Platform Awards from among 46 submissions from 17 countries and regions. In addition, artists who made significant contributions to the field of Media Arts were recognized with Special Achievement Awards.
23rd Japan Media Arts Festival
■ Art Division Award-winning Works and Jury Selections
■ Entertainment Division Award-winning Works and Jury Selections
■ Animation Division Award-winning Works and Jury Selections
■ Manga Division Award-winning Works and Jury Selections
■ Festival Platform Award Award-winning Works
Comments from Award Winners
Art Division Grand Prize
『[ir]reverent: Miracles on Demand』 Adam W. BROWN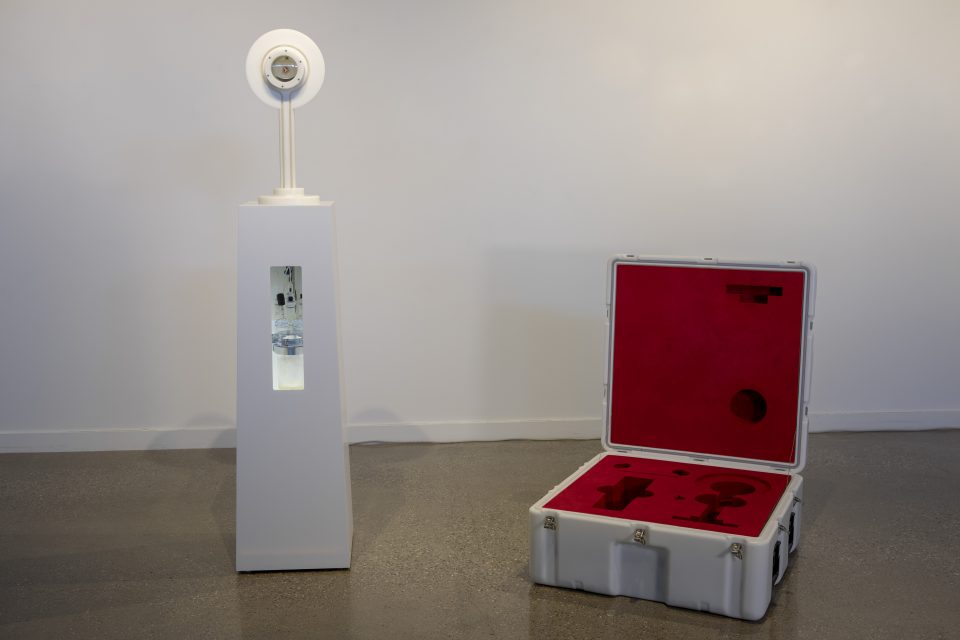 Hello from Michigan. I am honored and deeply grateful to be receiving the Grand Prize in the art division for the 23rd Annual Japan Media Arts Festival. I am very excited to visit Tokyo. This will be my first time ever to travel to Japan. I am looking forward to sharing my work with people whose artistic traditions have had such a profound impact on the world.
Entertainment Division Grand Prize
『Shadows as Athletes』 SATO Masahiko / SATO Masashi / ISHIKAWA Masaya / KAIZUKA Tomoko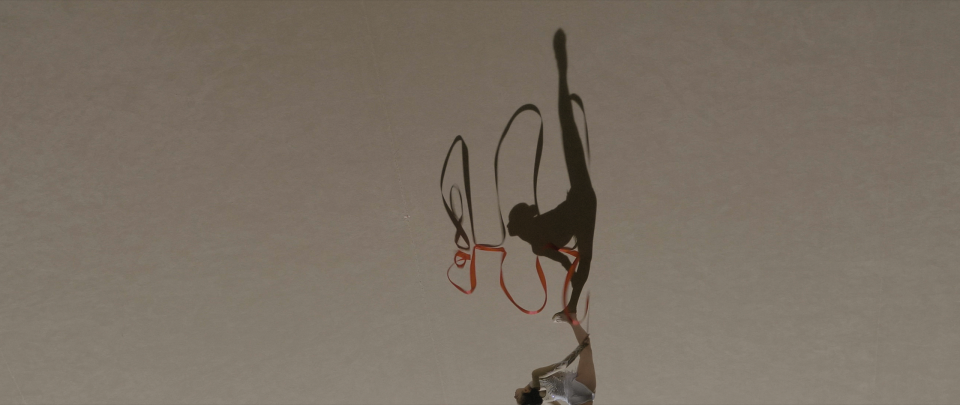 ©︎ 2019JOC
One of the concepts upon which we base our creative work is the notion that "focusing on human perception and cognition produces powerful artistic expressions." We feel like our winning of this award lends support to that notion, and we can move forward with our future activities more confidently.
Thank you to all of the athletes who participated and to everyone who worked together with us.
Animation Division Grand Prize
『Children of the Sea』 WATANABE Ayumu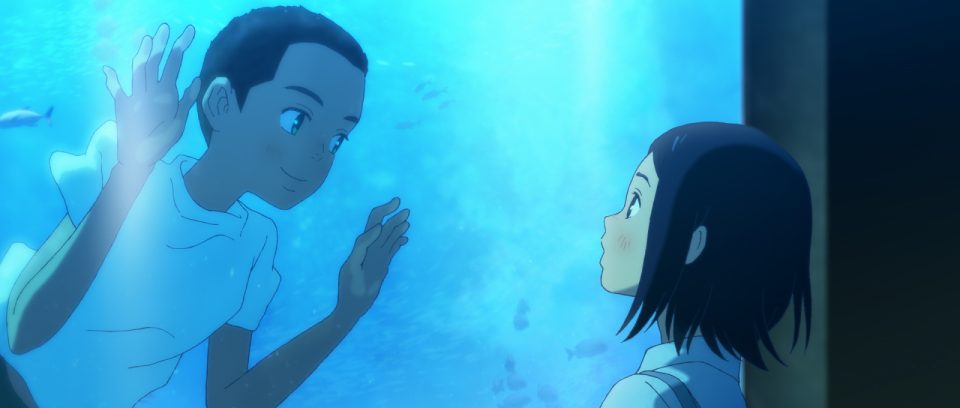 ©︎ 2019 Daisuke Igarashi・Shogakukan / "Children of the Sea" Committee
I am truly excited to receive such a significant award, and most delighted at the opportunity to share this joy with all of the staff members who believed in, supported, and poured their energy into this work.
"Why an animated movie?"
During production, I think that all of the sections were constantly confronting and struggling with this question.
You could call this work the modest "answer" that we were able to reach.
The fact that this work received the spotlight in the festival means that it seems to have been accepted as one of the "answers" held by each of the many animations, which is a relief to me.
Winning this award has provided us with the encouragement to take another step forward.
Thank you!
Manga Division Grand Prize
『Robo sapiensu zenshi (Prehistory of Robo Sapiens) 』 SHIMADA Toranosuke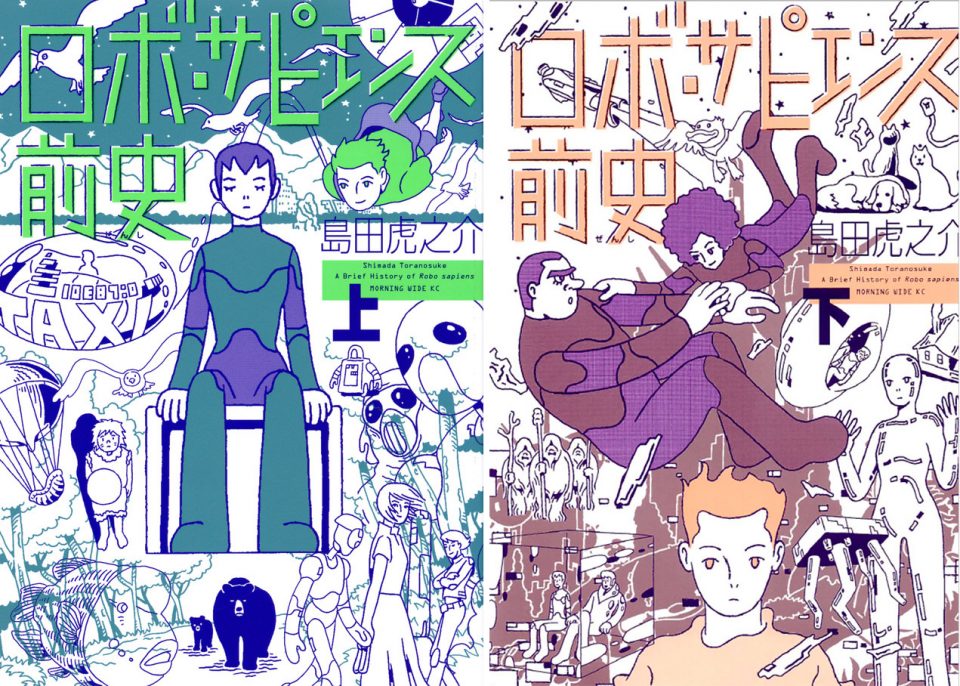 ©︎ Shimada Toranosuke
"Prehistory of Robo Sapiens (Prehistory of Robo Sapiens)" was more relaxing and fun to draw than any manga I have ever created before. This sentiment reflected in the work might be what was recognized by the award. That makes me incredibly happy. I am grateful to everyone who gave me this opportunity and to all of the readers of the manga.